Platform equipment
Illumina NextSeq500 sequencer
The NextSeq Series delivers the power of high-throughput sequencing with the speed, simplicity, and affordability of a desktop NGS (next-generation sequencing) system. The fast, integrated, sample-to-results workflow enables many sequencing applications, including transcriptomes, exomes, and targeted panels, in a single run. This NGS system fits seamlessly into research laboratories, with no need for specialized equipment. Now, users can perform any combination of high- and mid-throughput sequencing applications to advance their studies.
10x Genomics Chromium single cell system

The Chromium Single Cell Gene Expression Solution provides a comprehensive, scalable solution for cell characterization and gene expression profiling of hundreds to millions of cells. Affordable and with a simplified workflow, users can go from cell sample to sequencing library in less than one workday.
Life Technologies Ion Torrent Proton and PGM
The Chip is the Machine™ and Ion Torrent™ directly benefits from four decades of exponential improvement in semiconductor technology. This enables our chips to scale in density for any research application—from small, targeted experiments to large genomes - all on a single platform. See how Ion Torrent Chips work. With as little as 10 ng input DNA, the new Ion 314™, 316™, and 318™ Chips yield 99.99% consensus accuracy and up to a 50% increase in output over previous chips, in as little as 2 hours on the Ion PGM™ System. On the Ion Proton™ System, the Ion PI™ Chip enables the highest throughput with up to 10 Gb reads in 2–4 hours. This unique combination of simplicity and easy scalability makes semiconductor sequencing an accessible next-generation sequencing solution for all researchers, from whole genome/transcriptome to small genome and small RNA sequencing applications.
Fludigm C1-system for single cell experiment

The world's first automated solution for single-cell genomics research continues to break new ground, now offering more capabilities than ever before. C1 lets you prepare single-cell templates for mRNA sequencing, DNA sequencing, epigenetics or miRNA expression. Now you can conduct large-scale whole transcriptome studies to survey heterogeneity and discover novel cell populations. And with our new single-cell mRNA Seq HT workflow, you can reliably isolate and process up to 800 individual cells per run. Though we know you'll do much more than that.
DNA microarrays with Agilent Technology

Agilent 1,000,000-feature microarrays represent a four-fold increase in density compared with our previous microarray series. The dramatic increase in genomic coverage lets researchers use the superior performance of Agilent arrays in a growing number of high-resolution genomic applications. SurePrint technology allows as many as 8 arrays to reside on a single slide, allowing experiments to range from a genome-wide view to more focused studies. Researchers can now design ever-larger, more powerful microarray experiments very cost effectively.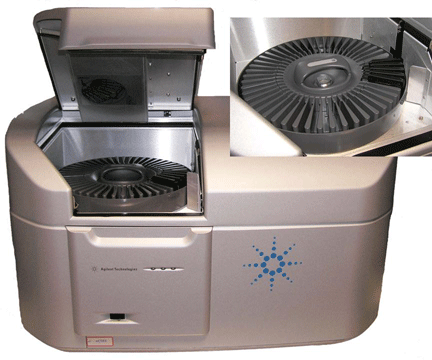 Small equipment (Nanodrop, Bioanalyser, Qubit)